The families behind the homes we build! Learn about our Partner Families who receive homes through our program. By donating to Santa Fe Habitat for Humanity, you are 'paying it forward' to support future families as they embark upon the path to affordable homeownership.
The Prada Family
"To be a single mom, you feel the weight of being able to provide everything your kids need. I remember looking for houses before this program and felt defeated… like I couldn't provide a home for my kids. It was an awful feeling that I couldn't give them a basic need of a home. Being in this program created a path for me to give my kids stability and a home where we can grow together. I'm blessed and grateful to have been able to be part of the program and to get this beautiful home. This is a place where we will build memories and always come home to. I want it to be home for my girls, where even once they grow up, they can still come home to visit for the holidays and it will still be theirs."
–Amber Prada, Santa Fe Habitat Partner Family
The McKeown Family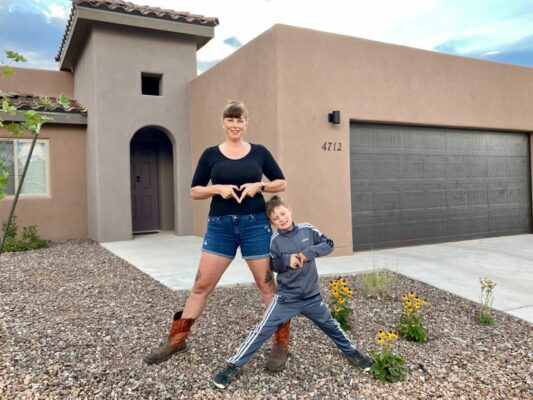 "Starting over is difficult. I had gone through a divorce, was pretty broke, and looking for a place to live. This is a hard housing market. We'd moved around a lot for a consistent place to live that I could afford. I nearly had to file for bankruptcy. I always knew I wanted to own a home but couldn't afford a house through other housing programs. I'd heard of Habitat for Humanity and didn't realize it was an option for me or that it existed here. It took two people encouraging me to look into Santa Fe Habitat's program before I made the leap. I got a call in December of 2018 saying that the Board picked me. It was like winning the lottery!
In the meantime, we had to move again. I daydreamed about was how amazing it would be to afford rent and not have to move around anymore. I reached out to friends and made Facebook events to help get my sweat equity hours done. Our home got moved up in the order and I had to get my hours done earlier… I like a good challenge! Our community really rallied and showed up to help.
For me, it's important that I have a stable home for my son where I don't have to move him around, somewhere he can make friends and go to the same school. I could only afford a one-bedroom place in Santa Fe – which still took up half of my monthly income. My Santa Fe Habitat home was finished in December of 2019, which immediately took away a large part of my internal worry which was occupied with housing. It has freed up parts of my brain to do other things and taken me out of survival mode to just 'go go go go go go' in order to make half of my income pay my rent. A lot of stress fell away once we got our home and I was able to think about what I want our futures to look like. My kid gets a new school, we'll never have to move again, and can make friends here. It's grounding in this really cool way. It's finally sinking in that I have my own home! I remind myself all the time that this is our house and we don't have to leave. We're putting down roots and establishing relationships with the community.
Housing is important, it's a necessity. It's a base that is needed to thrive. If you live in unaffordable or substandard housing, you're spending a lot of time, money, and energy just getting by. You're just existing. The stress of housing affected every part of my life – interactions with my kid and others, stress levels, patience, trust, and it affected my level of hope. I had very little hope and felt discouraged. Having a stable place to live that I can afford is awesome…basic but fantastic. It frees up that energy and stress to be like, 'Hey, how can we actually enjoy our life?' I think part of that is having consistent, affordable, and good housing to make a life worth living. This program is completely life changing. Right now, I'm out of work because my place of work is closed due to Coronavirus. Because I have an affordable home and a stable place to live, I can look toward what I want my second career to be, which is a privilege. This process has completely rebuilt my faith in people and notion of community.
–Colleen McKeown, Santa Fe Habitat Partner Family
The Kalogerini-Larsen Family

"I'm used to building houses. I've worked at Habitat for about 4 years. Building this house was special, because it is my house! We decided to apply for a house when Isaac was born. The house where we lived before wasn't a good place for him. When he was born, our minds and perception of life changed. We decided that we needed to have a better house for him. This house is perfect–it's very green. I love the energy-efficiency with the electric appliances and solar panels. While the house was under construction, we just couldn't wait to move in! It was a strange time having our home built during COVID-19, due to the temporary suspension of volunteers. This house is an opportunity for us to restart. This is a space where our family will be safe and happy. It's a new start."
–Daniel Kalogerini, Santa Fe Habitat Partner Family
The Benavente Family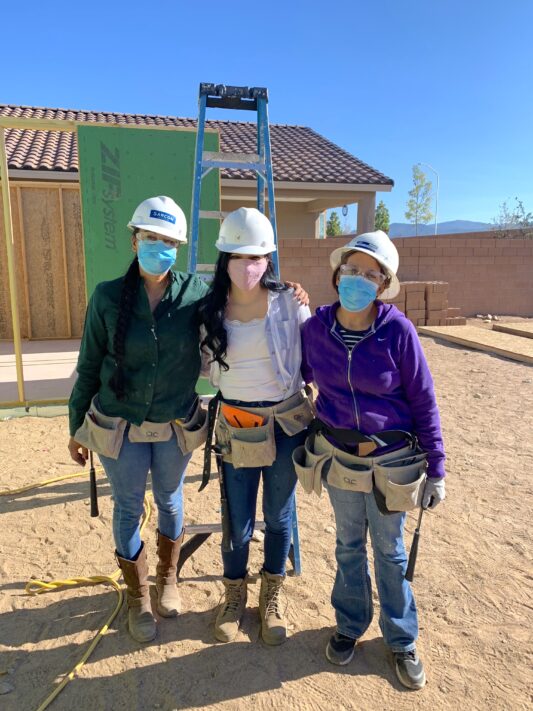 As a Santa Fe resident of 32 years, Susana always dreamed of a home, but found the prices unaffordable. Rentals were so expensive that she couldn't begin to fathom the pursuit of homeownership. "As a single working mother, it's hard to pay for food, clothes, along with all the other bills," Susana said. It's a challenging cycle. Susana considered getting a second job to help with costs, but she couldn't leave her kids alone without paying for a babysitter.
Despite challenging COVID times, Susana remains level-headed, mindful, and more determined than ever to have a home. She is grateful that soon she'll have the stability to weather future storms with stronger sails – the security and stability paired with homeownership can't come fast enough!
Susana's journey "home" began three years ago when initially applying for a house through Santa Fe Habitat's program. At first, she was not able to qualify. But instead of getting discouraged she worked on those factors that held her back, improved her application, and reapplied again. After all of her hard work, she was finally accepted as a Partner Family.
One of the most enriching elements of the program for Susana has been working at Build Sites. Coming from a farming family in Mexico, she knows what hard work is like and knows how to roll up her sleeves. Our Assistant Construction Director is proud to see her thriving at the Build Sites, "She works hard, is a team player, and likes to learn," he said. Susana shared this has been a great experience, "the people are kind, patient, and helped me a lot. They never got mad when I asked questions! I learned a lot about construction!"
Susana wants her four kids, two of which are still living with her, to grow up with opportunities that she didn't have access to as a child. She dreams for them to go to school, study hard, be happy, and get good jobs so they can pay for a house of their own one day. Homeownership will allow Susana the financial freedom to comfortably pay her bills and invest in savings, without worrying about rent and sacrificing purchasing priorities. She is eager to create a warm, happy living space for her kids, where she can decorate and make it feel like "home."
Although Susana is incredibly grateful to be one of our Santa Fe Habitat Partner Families, she is aware of the looming housing crisis that our city faces – thinking of others who still struggle with housing. She knows the fight isn't over until everyone has a home, "I wish for everyone to have a home that needs one. There are too many applicants, too many people with low wages, and too many people who need homes. When my house is finished, I want to help others and continue volunteering to show thanks for the opportunity I have been given," said Susana resolutely.
Santa Fe Habitat recognizes that the demand for housing persists. We hammer away at change every day to turn the tide of this housing crisis – one house at a time. We are proud to share Susana's homeownership story and to see our affiliate's 126th home nearly complete!
---
Your donation goes straight into homebuilding materials and powering our non-profit to continue our affordable housing mission in Santa Fe