Do you have an older car, truck, van, trailer, RV or boat taking up valuable space?
Donate it to Santa Fe Habitat for Humanity, and turn your car into a home for families in need. It's fast, easy and free!
Tax-deductible
Free towing
Any vehicle, any condition
Start your donation here.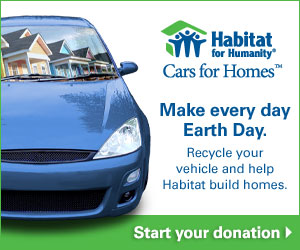 We accept all vehicle donations, including:
Cars
Trucks
Boats
RVs
Motorcycles
Construction or farm equipment
Why should you donate your car?
Eighty-four percent of the net proceeds from the sale of your donated vehicle will be used by Santa Fe Habitat for Humanity to build and repair affordable homes.
You may qualify for a tax deduction for donating a vehicle.
It's fast and easy. Learn more about how vehicle donations work.
Thirty percent of vehicles donated to Habitat are recycled for materials or sold for reusable parts.
Recycling steel uses less energy and natural resources and produces less carbon pollution.
Taking an inefficient older vehicle off the road helps save gas and improves air quality for all.
Need help? Check our frequently asked questions or email us at [email protected].
The Donation Process Is Quick & Easy!
It can be accomplished online: www.carsforhomes.org or with a toll-free phone call to:
(877) 277 4344. Just be sure to tell them that your donation is for Santa Fe Habitat for Humanity!
For more information and/or to let us know that you are donating a vehicle to benefit Santa Fe Habitat, please call Marilyn Perryman @ (505) 986 5880, ext. 105.